---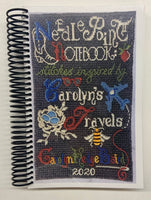 "Whether driving into town, crisscrossing through the local countryside, or flying from one coast to another, traveling often triggers thoughts and ignites imagination.  Ideas come and go. Some ideas stay with us beyond the travels.
For Carolyn Hedge Baird, many travel-inspired ideas have been documented in a tattered spiral-bound notebook that has stayed by her side, intermingled with the other things she carries in her purse.  Among the notes and the reminders that fill this notebook are ideas for stitches, lots of stitches. 
At the heart of this book, her seventh, Carolyn makes these unusual, travel-inspired stitches available to you."